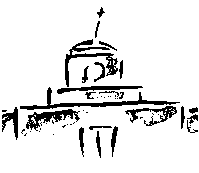 HISTORY RESOURCES
@ LE MOYNE COLLEGE
---
PRINT RESOURCES

List of Le Moyne's History Journals
EARLY HISTORY INTERNET SITES

Ancient, Medieval, and Renaissance Documents in Law, History, and Government (Yale's Avalon Project)


Byzantine Studies Page

Guide to Early Church Documents

Labyrinth: Georgetown Univ.'s World Wide Web Server for Medieval Studies
UNITED STATES HISTORY INTERNET SITES

American Civil War Home Page
Links to diaries, letters, battle descriptions, timelines, bibliographies, military rosters, maps, and graphics related to the Civil War.

US Civil War Center
Links to other Internet Civil War sites, books, photographs, bibliographies, and Civil War newspapers from Louisiana State Univ.

National American Women's Suffrage Association Collection,1848-1921

The NAWSA Collection consists of 167 books, pamphlets andother artifacts documenting the suffrage campaign.They are a subset of the Library's larger collection donated by Carrie ChapmanCatt, longtime president of the NationalAmerican Woman Suffrage Association, in November of 1938. The collectionincludes works from the libraries of othermembers and officers of the organization including: Elizabeth Cady Stanton,Susan B. Anthony, Lucy Stone, Alice StoneBlackwell, Julia Ward Howe, Elizabeth Smith Miller, Mary A. Livermore.

Papers of the Presidents of the U.S.(From The Avalon Project)

Schlesinger Library on the History of Women in America
At the library you will find letters, diaries, and otherpersonal papers of women and families; records of women's organizations; books about women; cookbooks; women'speriodicals; photographs;videotapes; and oral histories.

Cold War International History Project (CWIHP)
CWIHP is located at the Woodrow Wilson International Center for Scholars in Washington, D.C. Established in 1991 to release historical materials by governments on all sides of the Cold War, including previously unavailable archival records from Soviet Bloc countries.

The National Security Archive
EUROPEAN HISTORY INTERNET SITES

European History : A Documentary Record, 802 - 1992 (From The Avalon Project)

French Revolutionary Pamphlets

Holocaust-Era Links (National Archives and Records Administration subsite)
International links to the Jewish assets issue, as well as links to US and academic sites on all aspects of the Holocaust.

Historians on the Holocaust: Interviews
Interviews with Uri Aloni, Shalmi Barmore, Yehuda Bauer, Ely Ben-Gal from the Cybrary of the Holocaust site.

Napoleon Series: an electronic magazine
---

Created by: I. Barnello, Social Sciences Librarian, Le Moyne College, Syracuse, NY. Updated: 8/24/99 .